The First communion may seem like just a Church tradition, but this special ceremony holds a bigger meaning that every Christian should know. Aside from the blessing that you can finally consume the body and blood of Christ, the First Communion is also an essential part of a child's journey in achieving all the Holy Sacraments of the church. Today, join us in discovering the real meaning of the First Communion and how you should celebrate it.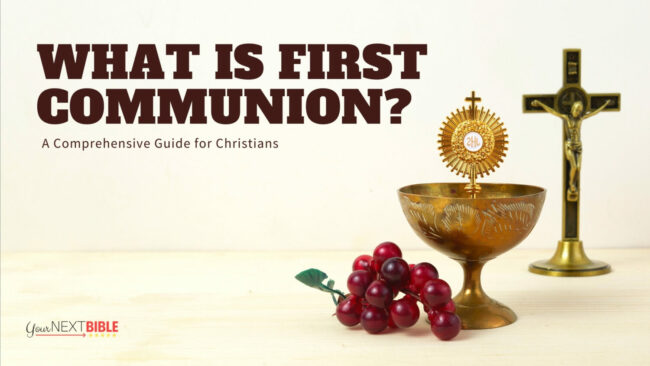 What is the First Communion?
The First Communion is the first time a person or child receives the important Sacrament of the Eucharist. During this time, the child consumes the consecrated bread and drinks the consecrated wine that represents the body and blood of Jesus Christ.
This practice usually takes place starting at second grade and between 7 to 9 years of age or whenever they met all the requirements of the Church.  It is commonly celebrated within the catholic faith.
Who can take the First Communion?
The Church is open to everyone, although not anyone can just take the First Communion. The first step is to go through other important occasions within the Holy Sacraments first before taking their First Communion. For example, only the baptized (Sacrament of Baptism) are allowed to partake in this Holy Sacrament.
The First Communion
Preparation
To receive the First Communion, the child must be considered to be without sin or in a state of grace. They are required to do their First Confession also known as the Sacrament of Penance. This is usually held one week before the First Communion Mass.
During the Sacrament of Penance, the child confesses their sins, mistakes, and past doings that are considered wrong. They can also confess thoughts or bad ideas that they got from their friends, family, or the environment.
The priest will then ask the child to recite several prayers before leaving the confessional area. Doing this is considered to clean the child from their sins and wrongdoings, making them ready for their First Communion.
The First Communion Service
This special day is a celebration and other members of the body of Christ are expected to join the ceremony. It usually lasts for an hour or up to 90 minutes that consists of prayers, hymns, readings, and the actual First Communion where the children will receive their Holy Communion before the other attendees. Other churches include the children in Sunday Mass by allowing them to join the procession and carry out the readings and offerings. 
After the First Communion
After the ceremony, the young Catholics are expected to be present and active in Church. They must attend the church every Sunday and continue their service for the Church by being active and joining ministries where they can contribute their skills, talents, and time.
The family and the church usually celebrate the end of the First communion with a special gathering. They can prepare a light feast or snacks to continue to enjoy the milestone that their children achieved in their Christian life.
Planning for your child's First Communion
This blessed event only happens once in a lifetime that's why planning for your child's First Communion is considered essential. Determine if you want to hold a First Communion Party or why not think of fun and exciting ways to make this event extra memorable.
Who to Invite?
It is important to invite guests who have impacted your child's relationship with God or the people that you're confident will guide your child on the right path. They are usually the people you trust like your close family and friends, relatives as well as your child's godparents.
How to invite your guests?
There are many First Communion invitations online that you can customize and personalize with your details. Don't forget to enter important information such as date, time, dress code, and gift suggestions. You can also DIY the invitation and print it at home so you can give them away before the celebration.
What to wear to First Communion?
The First Communion is held in a sacred place that's why the key to this is to wear something modest. Children participating in the ceremony should wear something white to symbolize purity like dresses, formal polos, pants, close-toed shoes, stockings, and socks. Other churches require their attendees to wear veils as a sign of humility to God.
Guests are expected to wear formal and church-appropriate clothes as well. This includes modest dresses, button-up shirts, ties, and dress shoes.
First Communion Gift Ideas
Give your child something special that will remind them of this milestone in their Christian life. Make sure that it is something memorable that they will cherish forever and will also act as a reminder of their faith. Some of the ideal gifts that you can consider are:
First Communion Bible
On Sale Now
Try to look for a Bible with a record page where you can input the details of your child's First Communion ceremony. Every time they use this Bible, they will be reminded of the sacred ceremony that they experienced when they were still young
Personalized rosary or rosary bracelet
FaithHeart Picture Custom Y Necklace with Crucifix Pendant Jewelry for Female, Black Rosary Charms
⭐⭐Design Your Own Jewelry⭐⭐-- Custom necklace different from classic jewelry, this pendant can put your own design, this picture pendant with chain is used to commemorate an unforgettable person or an unforgettable event. We add a protective layer of glue on the surface to prevent the photo from fading or falling off. Customize a unique necklace that reminds you happy moments.
⭐⭐Robust and Strong Links⭐⭐-- Pendant Length: 16 cm(6.5"), Chain Length: 66 cm(26") which will fit most people comfortably and can easily be pulled over the head. Due to the pullover design, it does not rely on any sort of clasp.
⭐⭐Comfort-fit & Long Lasting⭐⭐-- This cross necklace is truly elegant. The medal is made from 316L stainless steel, entirely hypoallergenic and comfort fit. Lead & Nickel free!
Select a rosary that you can personalize with your child's initials, favorite color, and even stone. It comes in the standard size or as a handy bracelet that they can wear every day.
Cross necklace
On Sale Now
Joxevyia Cross Necklace for Boy Silver Stainless Steel Small Cross Pendant with Cuban Chain Necklace Simple Faith Jewelry Christmas Gift for Kids Men Women Girls 16 Inches
♥ PREMINUM MATERIALS ♥ Tiny cross necklace for teen boys, both cross pendant and Curb chain are made from 316L stainless steel. High polished with smooth edging. Never get tarnished or change color, Lead free and hypoallergenic, no irritation for sensitive skin. It is absolutely the high quality cross necklace for teen boys or men with affordable price.
♥ STURDY CUBAN CHAIN ♥ As most of buyers worry about the other chain breaks easily. We choose to use the fashionable and classic 2mm Cuban Chain to the small cross pendant necklace. The chain is dainty but very strong, Never worry about the cross necklace breaks on an active boy. A simple yet dainty cross necklace for men or women, kids, boys or teenagers.
♥ TINY CROSS NECKLACE SIZE ♥ Faith cross necklace pendant size: 21*12 mm(0.8"*0.4"), Curb chain length: 18" , Strong and smooth edge tiny silver cross necklace for women with flexible lobster clasp. Perfect for a child or teen boy. Sure to be a cherished classic cross necklace piece for a Christian or hip hop friend.
This is a subtle but important accessory that they can wear every day to be reminded of their faith and the relationship with God that they established after the First Communion.
Prayer journal
Support their faith by giving a gift that will promote a prayerful lifestyle. Look for a journal where they can express their thoughts and learnings.
Personalized leather watch
On Sale Now
A timepiece is an important accessory that you can surprise your child after their First Communion. Customize it with their initials for a more personal touch. Leather watches are ideal because they age well and last long plus they can be an heirloom that your kid can pass on to their future children.
Summary
Your child's First Communion is an important milestone in their Christian life. It is essential to help them establish a stronger relationship with God and to strengthen their faith. The First Communion shouldn't be considered a traditional practice only but also a celebration of the love that God has for His children, that's why it's our responsibility to do our part and follow the other Holy Sacraments to become a full member of the church.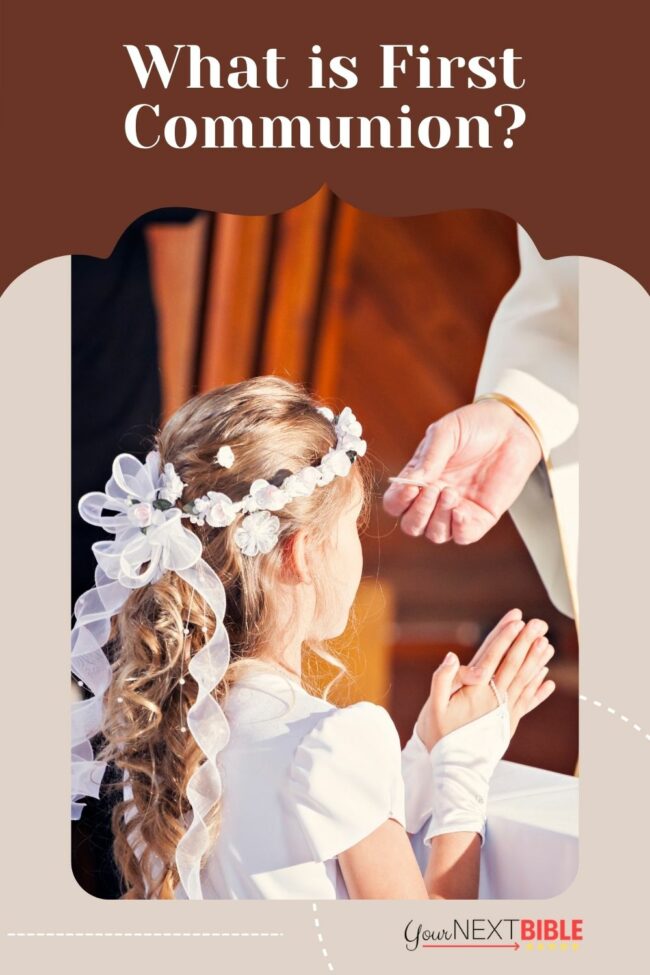 Last update on 2023-01-23 / Affiliate links / Images from Amazon Product Advertising API