Alcohol addiction can have a huge impact on one's life. It can impact relationships at home, relationships at work, work performance, and your relationship with God. If you or someone you know is struggling with addiction to alcohol, we hope the information presented here will help get them back on the right track.
What Does The Bible Say About Addiction To Alcohol?
This is by far, my go-to verse when referencing Bible verses for alcohol addiction with others.
And be not drunk with wine, wherein is excess; but be filled with the Spirit; Speaking to yourselves in psalms and hymns and spiritual songs, singing and making melody in your heart to the Lord; Giving thanks always for all things unto God and the Father in the name of our Lord Jesus Christ;

Ephesians 5:18-20 (KJV)
What Does The Bible Say About Heavy Drinking?
The acts of the flesh are obvious: sexual immorality, impurity and debauchery; idolatry and witchcraft; hatred, discord, jealousy, fits of rage, selfish ambition, dissensions, factions and envy; drunkenness, orgies, and the like. I warn you, as I did before, that those who live like this will not inherit the kingdom of God.

Galatians 5:19–21 (NIV)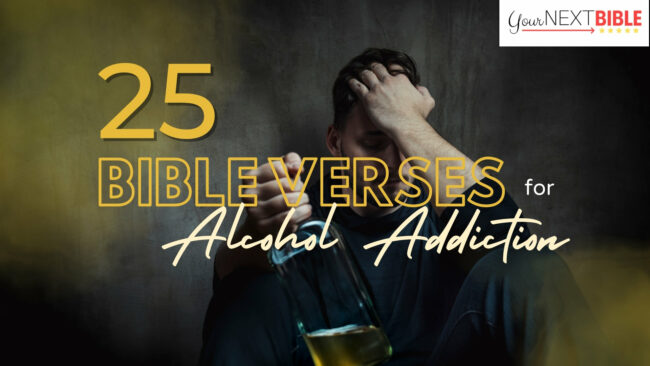 Five Ways to Combat Addiction and Reconnect with God
Many people struggling with alcohol addiction turn away from God and religion in shame and sometimes anger. The missing piece to fix this addictive puzzle is combining faith and reconnecting with God.
Do Not Forsake the Christian Community
Love and community are Christian principles. The Bible encourages us to gather together. Anyone who has recovered from an addiction of any sort will tell you that having a supportive community is key to overcoming an addiction.
Your family and your church community share your common values. At home and at Church, you will find the love, understanding, and fellowship you need so you don't feel alienated. When you surround yourself with this energy and these people, you are increasing your chances of abstaining and maintaining the change for the long term.
Maintain Your Prayer Life
Prayer can provide you with the guidance to maneuver out of this rut that you have found yourself in. Connect with God directly through prayer, asking Him for guidance and to answer your questions. What are the things that drove you to this alcohol addiction?
If you feel like you don't know how to pray, simply talk to God as if you were talking to a friend. You can alternatively write out your thoughts to him. Continue to do this daily as you continue your road to recovery from alcohol addiction.
Remember, God is Always With You
Your family, friends, and even experienced professionals all have supporting roles to play. You should definitely rely on them, but never leave God out of your support group. He is the ultimate supporter, and His support should be your main one.
When you need support, as you are experiencing withdrawal or cravings, remember his promises to you. He loves you dearly and wants only the best for your life here on earth and throughout eternity.
Carve out time in your morning to read the Bible and build a routine of positivity and joy. Repent and ask forgiveness, then pray to find solace. Pray for yourself, but also pray for others. When you feel the temptation coming on, pray immediately, asking God to give you the strength so you can stay sober.
Focus on Christian principles throughout the day, so you can feel God's presence and power as you go through your day. Use these Bible verses for alcohol addiction to reflect on your own habits and see where you can improve.
Engage in Christian Exercises to Assist Spiritual Progression
Here are some practices that can help you while you recover, and also assist you in progressing spirituality as you sober up.
Pray – you can get closer to God and find enrichment for your life through prayer.
Meditate – meditation in a biblical sense focuses on gaining a deeper understanding of Bible passages.
Be open to learn – There is always something new to learn about ourselves and the world around us.
Find love and beauty in the smaller things. Be grateful for the small things, reshape your perspective and reframe your thoughts to gratitude.
Find encouragement from the Bible through these focused Bible verses for alcohol addiction
There are many Bible passages that offer healing for those going through alcohol addiction. There are also stories about alcohol addiction and alcohol use, how it affects persons, and why we should not live this lifestyle.
Here are 25 Bible Verses for Alcohol Addiction
These passages can provide support, guidance, and comfort as you navigate this trial. The verses below are NIV, but you can choose the translation you need.
James 4:7 – Submit yourselves, then, to God. Resist the devil, and he will flee from you.
Matthew 26:41 – "Watch and pray so that you will not fall into temptation. The spirit is willing, but the flesh is weak."
1 Peter 5:8-10 – Be alert and of sober mind. Your enemy the devil prowls around like a roaring lion looking for someone to devour. Resist him, standing firm in the faith, because you know that the family of believers throughout the world is undergoing the same kind of sufferings. And the God of all grace, who called you to his eternal glory in Christ, after you have suffered a little while, will himself restore you and make you strong, firm and steadfast.
Luke 7:34 – The Son of Man came eating and drinking, and you say, 'Here is a glutton and a drunkard, a friend of tax collectors and sinners.'
Proverbs 21:7 – The violence of the wicked will drag them away, for they refuse to do what is right.
Proverbs 20:1 – Wine is a mocker and beer a brawler; whoever is led astray by them is not wise.
Romans 13:13
Isaiah 28:1-3
1 Corinthians 6:9-10
Isaiah 28:7 – 8
Ephesians 5:18-20
Galatians 5:19-21
Isaiah 5:22
Proverbs 23:29-35
Isaiah 5:11
1 Corinthians 3:17
1 Corinthians 5:11
1 Corinthians 6:19 – 20
Romans 14:21
1 Timothy 5:23
Proverbs 31:4
1 Timothy 3:8
Hosea 4:11
Daniel 1:8
Jeremiah 23:9
Addiction is hard, and alcohol addiction is no different. With the right support and these Bible verses for alcohol addiction, you can overcome this season of your life and stay strong in your faith. The best part is that you don't have to do it all on your own.
Get your family members involved, get your church family involved, and let them be that support system necessary for overcoming addiction and maintaining an addiction-free lifestyle.
Follow the tips in this article, and use the Bible verses to support yourself. But still, get the help you need from others. Open up about what you are feeling, and what is driving you to overconsume alcohol, and get professional help if you are not ready to open up to those closest to you.
Remember that God sees and hears all, so when you feel like you cannot turn to anyone else, you can turn to him in prayer and thanksgiving. Both of which will make a world of difference in how you feel and how you look at life.
Do you know someone struggling with Alcohol Addiction?
Share these Bible Verses for Alcohol Addiction with them today! It could be exactly what they need to get them the help they need.