"By Bread Alone" is a book by Kendall Vanderslice that explores the spiritual significance of bread, both as a physical substance and as a symbol of Christ's body. Her book is written from a Christian perspective and speaks to how bread is central to both God's story and our own stories as believers.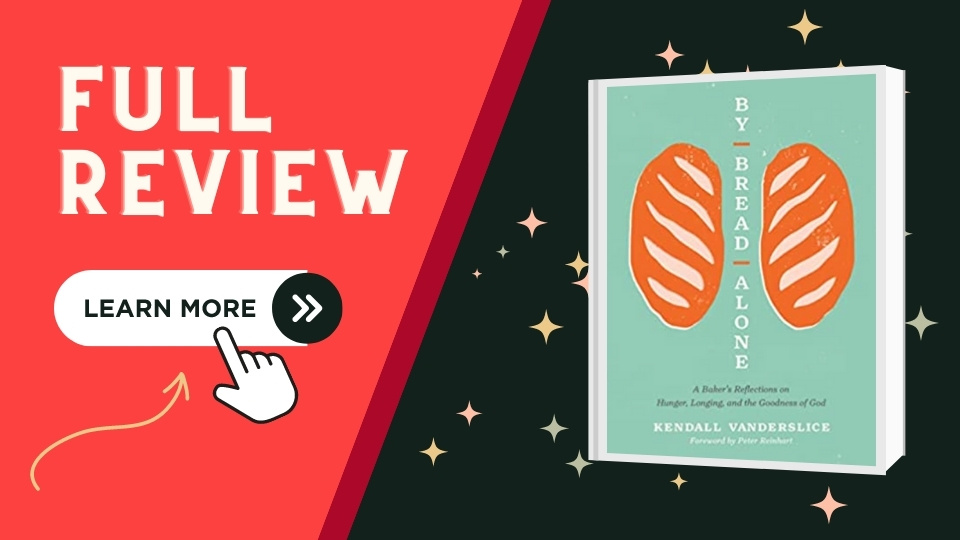 Let's start by saying I was fortunate enough to receive an advanced free copy of this book for an honest review. Here are my thoughts…
Kendall Vanderslice, a professional baker and practical theologian, has authored "By Bread Alone" to dive into the spiritual importance of bread in our lives. Through her personal experiences, original recipes, and stories about bread's role in church history, she illustrates how bread can help repair our relationship with the body of Christ and our bodies.
This book offers a compelling insight into the intersection of baking and faith, providing a comforting read that nourishes and fulfills our deepest yearnings for the Bread of Life.
The book delves into the tension between bread as a blessing and bread as a burden. It also illustrates how bread can be a tangible expression of God's presence and provision for us. Vanderslice discusses that when we cry out in longing and loneliness, bread can provide comfort and sustenance. By exploring the art of breadmaking, Vanderslice shows us how to connect with God in both sacred and everyday ways.
A deeper look into "By Bread Alone"
The book is divided into four main sections each relating to the ingredients of bread. Flour, Water, Yeast, and Salt
Each section is focuses on different aspects of life such as Hunger, Patience, Healing, Freedom, Death, Resilience, Hospitality, and more.
For example, in the hunger chapter, Kendall reflects on how our experience of the world is shaped by our interwoven experiences of hunger, language, and love. Our early affection for our caretakers is formed as they feed and nurture us, and this connection between food and companionship continues to shape us as we grow.
Kendall's own experience when learning to speak was driven by her love for sweets, and she shows us that the foods we eat and avoid can shape our sense of self. Despite the prevalence of prepackaged meals and fast food, she encourages us to pay attention to the ways our daily hunger forms us.
Other "By Bread Alone" Reviews
The book has received high praise from several prominent Christian figures as well. Makoto Fujimura, artist and author of "Art+Faith: A Theology of Making," describes "By Bread Alone" as "a sustenance of hope, a needed nourishment for us hungering to create beauty faced with the bitter gaps of our divided cultures."
Gisela Kreglinger, author of "The Spirituality of Wine" and "The Soul of Wine," praises the book's exploration of the intersection of faith and food, while Adrian Miller, James Beard Award winner and Executive Director of the Colorado Council of Churches, highlights the book's theological implications.
Wrapping it up
Overall, "By Bread Alone" offers a unique perspective on the role of bread in our spiritual lives. It is a heartfelt exploration of hunger, community, and ways that bread can help us connect with God.
The book is both practical and deeply spiritual, offering original recipes alongside personal reflections and stories. It will appeal to anyone interested in the intersection of food and faith, as well as those who are seeking comfort and sustenance in their spiritual journeys.
This book offers a heartfelt invitation to connect with the body of Christ and with our bodies in a new way. So, if you want to be inspired and uplifted by a comforting and soulful message, order your copy of "By Bread Alone" today!
On Sale Now
Last update on 2023-01-23 / Affiliate links / Images from Amazon Product Advertising API