Easter is one of the most important holidays in the Christian faith, as it celebrates the resurrection of Jesus Christ from the dead. During this time, Christians come together to remember and celebrate this incredible event that changed the course of human history.
The Key Points Easter Books for Kids Must Provide
Easter reminds us of God's love and the sacrifice Jesus made for our salvation. Jesus died on the cross to take on the punishment of our sins.
On the third day, He rose from the dead, proving that He had conquered sin and death once and for all.
His act of selfless love and redemption is at the heart of our faith and is what makes Easter a special and meaningful time for us.
Easter is a time for renewal and rebirth. Just as Jesus emerged from the tomb, we can experience new life and hope through our faith in Him. It's a time to reflect on our lives and renew our commitment to living in a way that honors God and His teachings.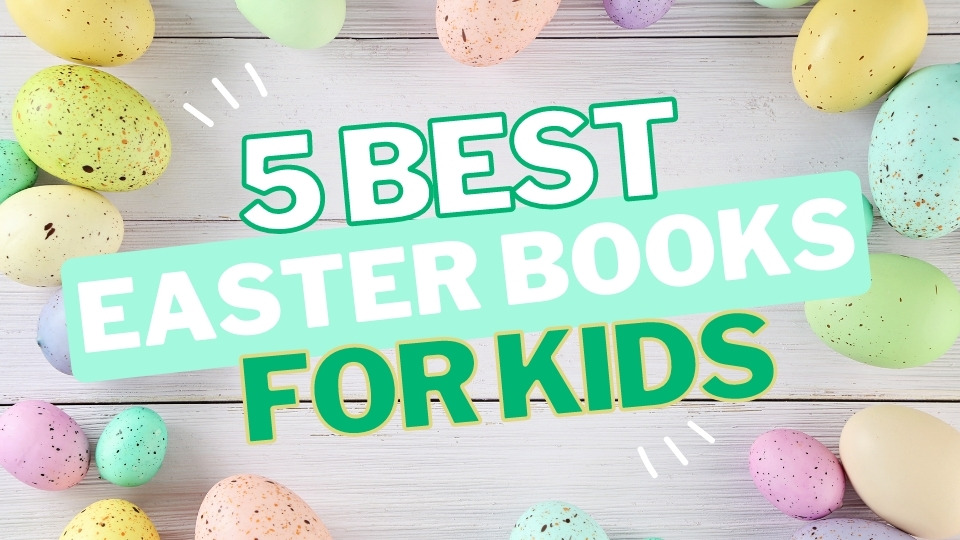 As a new parent or grandparent, finding an Easter book for kids is a fantastic way of teaching your child about Easter. It is a fantastic way to introduce them to the Christian faith and instill important values and beliefs too. It can be a time to talk about God's love for us, the importance of forgiveness and redemption, and the hope and joy that come from living a life of faith.
Today, we will be focusing on Easter books for kids that are perfect to share with your little ones. We'll start with my personal favorite children's Easter book!
The Easter Storybook
On Sale Now
The Easter Storybook is an incredible children's book that brings the story of Easter to life for kids. The book contains 40 full-color, beautifully illustrated stories that cover Jesus' entire life, from his time in the temple as a boy to his appearances after the resurrection. Each story includes a Bible passage and a conversational question to guide families through the Easter season together.
The Easter book for kids is unique in that it not only focuses on Jesus' last days, but also on the journey of his whole life leading up to the joy of Easter morning. Children will gain insight into Jesus' identity as a Teacher, Good Shepherd, Savior, and King, making this a rich book to read throughout the year.
The Easter Storybook explains who Jesus is, what He did, and why His death and resurrection matter in a simple way that children ages 4-8 can understand and remember. It is a perfect companion to the bestselling The Advent Storybook and is a wonderful way to discover why Jesus came to earth as Rescuer, Redeemer, and Friend.
The book is perfect for Lent, with one page of reading and one beautiful illustration per day, making it an excellent resource for families during the 40 days leading up to Easter. The stories are paraphrased from specific Bible passages and include direct scripture quotes, with each story citing where you can find the full version in the Bible if you want to go deeper. The key verses at the top of the pages are from the Old and New Testaments, and each story ends with a reflection question.
Parents and kids alike will love the detailed yet still very understandable stories of Jesus that retell the story of his life, death, and resurrection elegantly. The illustrations are absolutely beautiful, and each story has a question at the end to promote meaningful conversation. This is an artfully told story of our Savior's sacrifice that children will treasure for years to come.
Easter Is Coming!
On Sale Now
This Easter book for kids tells the biblical story of Easter, reminding young readers that although the tale has somber notes about sin and death, Easter Sunday brings joy and celebration. The book is designed to be read and reread on the days leading up to Easter, building anticipation and celebration in little hearts. 
The story covers the full history of Easter, starting in Eden, and connects Easter to the very first sin, Jesus coming as a baby, and the events of Holy Week. The phrase "But Easter is coming!" builds anticipation for Jesus coming to save us, making the story positive and encouraging. The illustrations are colorful and engaging, and the book is durable enough for little readers. 
Overall, it's a beautifully written and illustrated book that shares the true meaning of Easter with little ones.
God Gave Us Easter
On Sale Now
Looking for a delightful picture book to share with young readers this Easter? Look no further than God Gave Us Easter! The story features Little Cub, an adorable polar bear who learns about the true meaning of Easter from her father. Through a memorable walk in the Arctic world, Little Cub begins to understand God's plan for his children and the significance of Easter.
The story is easy for younger children to follow and grasp, although it doesn't delve into the specifics of the crucifixion. However, the book does address the concepts of death and new life, making it an especially good choice for children who have experienced loss. The book's message is powerful and can resonate with both children and adults, instilling the importance of Jesus' resurrection power.
While the book is relatively lengthy, it is age-appropriate and doesn't raise any questions that parents may not be ready to tackle. It is a perfect addition to any child's Easter basket, and the board book version is particularly recommended. Overall, God Gave Us Easter is a wonderful way to celebrate the Easter season with children and introduce them to the Christian messages behind the holiday.
Jesus Rose for Me: The True Story of Easter
Jesus Rose for Me is a board book designed for children between the ages of three and seven. It is part of The Beginner's Gospel Story Bible series, which aims to help young children understand the gospel message in a way that is simple and relatable. The book uses modern, vivid illustrations to bring the Easter story to life and engage children in the message.
One of the unique features of Jesus Rose for Me is its focus on the resurrection of Jesus, which is often overlooked in other children's books about Easter. The book helps children understand that Jesus is more powerful than death and that his resurrection gives us hope for eternal life. Through clear, conversational language and insightful questions, the book invites children to respond to the gospel message and celebrate the joy of resurrection day.
Overall, Jesus Rose for Me is an excellent resource for parents and caregivers who want to teach their children about the true meaning of Easter. It presents the gospel message in a way that is both engaging and faithful to the biblical text, and it can help children build a strong foundation of faith that will last a lifetime. If you're looking for Easter books for kids that will help your child understand the beauty and power of the resurrection, Jesus Rose for Me is definitely worth considering.
An Easter Egg Hunt for Jesus
On Sale Now
"An Easter Egg Hunt for Jesus" is a delightful children's book perfect for celebrating the Easter holiday. The story follows Little Bunny and his friends as they prepare for an Easter egg hunt and learn about the true meaning of Easter – Jesus's resurrection and the new life it offers. 
The book is beautifully illustrated by Lee Holland and features the same lovable forest animals as the Christmas storybooks in the series. Parents love this book because it offers a relatable story that delivers a deeper message to their children. This book is highly recommended as a basket stuffer for young boys and girls.
In Summary
This Easter, give your child or grandchild the gift of a beautifully crafted Easter book for kids for them to enjoy alongside their Easter basket goodies. Not only will they love the cute and relatable imagery, but they'll also learn the true meaning of Easter and the love of Jesus. Order now and make this Easter one to remember!
Do you have older children? Try these Devotionals for College Students!
You may also like these other popular Easter books for kids
Last update on 2023-01-23 / Affiliate links / Images from Amazon Product Advertising API