Being a leader is rewarding, but also a lot of hard work! Staying focused and connected in the Word is vital. That's why we've prepared a few Bible verses about leadership for you!
A leader's decisions can have huge impacts on people, and they should always think twice before major decisions. As others will be following you, your example of leadership is very important and under constant watch.
The task of being a leader can be nerve-wracking and adds additional stress to you whether it's in work, household, and even the church. You will need to know how to be a good listener and manage conflict.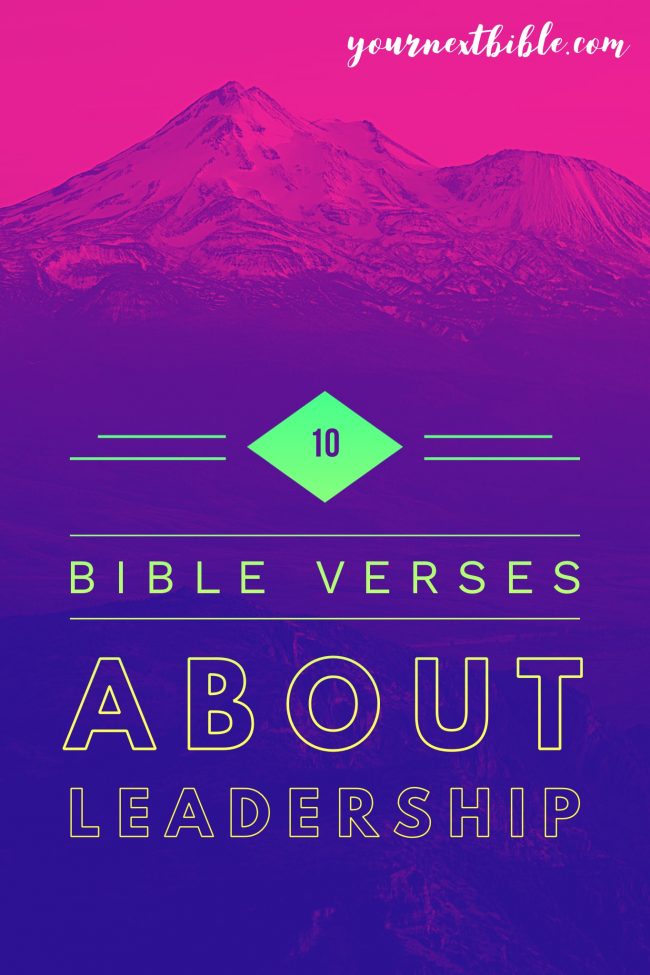 As a leader, it's encouraging when things go right and you help create that growth and connection within the community. It's also challenging because no matter how good your intentions are you would still receive negative feedback and remarks from others.
10 Bible Verses About Leadership
1. Leaders have to be patient and extend a helping hand to their people regardless of their capabilities
We ask you, brothers, to warn those who do not work. Encourage the people who are afraid. Help those who are weak. Be patient with every person. – 1 Thessalonians 5:14, ICB
2. Be careful on the words that will come out of your mouth
People who are careful about what they say will save themselves from trouble. – Proverbs 21:23, ERV
3. Leaders have to lead passionately
If one has the gift of encouraging others, he should encourage. If one has the gift of giving to others, he should give freely. If one has the gift of being a leader, he should try hard when he leads. If one has the gift of showing kindness to others, that person should do so with joy. – Romans 12:8, ICB
4. Leaders should know how to respect others so they will be respected as well
Have confidence in your leaders and submit to their authority, because they keep watch over you as those who must give an account. Do this so that their work will be a joy, not a burden, for that would be of no benefit to you. – Hebrews 13:17, NIV
5. Great leaders should continue to grow spiritually
If any of you lack wisdom, let him ask of God, who gives to all men liberally and without criticism, and it will be given to him. – James 1:5, MEV
6. Accepting criticism is part of being a good leader
Whoever loves discipline loves knowledge, but he who hates reproof is stupid. – Proverbs 12:1
7. Leaders should learn to be humble at all times
Now the man Moses was humble, more so than anyone on earth. – Numbers 12:3, CEB
8. Leading with integrity is one way to respect
Always set a good example for others. Be sincere and serious when you teach. Use clean language that no one can criticize. Do this, and your enemies will be too ashamed to say anything against you. – Titus 2:7-8, CEV
9. Age is just a number. Anyone can be a good leader
Let no one despise you for your youth, but set the believers an example in speech, in conduct, in love, in faith, in purity. – 1 Timothy 4:12, ESV
10. Good leaders choose their battles wisely
Speak not in the hearing of a fool; for he will despise the wisdom of thy words. – Proverbs 23:9, ASV
Sometimes, being a leader is hard
The responsibility of being a leader in the church involves a list of tasks that you may find hard to balance. Even worse, some church leaders, as well as members, view certain leadership jobs as trivial when they are highly important!
For example, many times others have viewed the responsibilities of children's Sunday School leaders as "easy" since they, unfortunately, view it as babysitting kids while their parents are in the main service. However, I think we've all known of Sunday School leaders who had moments when they just want to cry because children weren't listening, learning, or downright mean in church.
Because of this, it's good to have Bible verses about leadership to help you along and feel more confident about the tasks at hand. There are many scriptures about leadership that can help you become more effective! Here are some favorites, but feel free to add your favorites in the comments at the bottom too.
Conclusion
These 10 Bible verses about leadership are just a few of the many good Words from God. Use them as a tool to help you stand up and become a great leader. Some have probably touched your heart and strengthened you and others may have tapped you at the back to make you realize how to become better.
Being a good leader isn't always difficult. It takes the right attitude, a good heart, and a listening ear to achieve success as a church leader. Don't feel like you have to do it all yourself either! Reach out for help from the mentors and learn from their past.
Letting people know that you need help is a brave move and you will gain the respect of others in the process. Finally, do not forget to keep reaching out to God! He's the one who put you in your position, and, through His Word, He will equip you with the tools to become a great leader.
10 Christian Books About Leadership
No products found.
You may enjoy this 10-minute message from Steven Furtick on The Key To Being A Better Leader.
Last update on 2023-01-23 / Affiliate links / Images from Amazon Product Advertising API