A father's role in the family is something so complex that not everyone has the heart or strength to stand up and take on the challenge. It requires tons of patience to cope with every challenge, strength to protect the family, eagerness to learn the nooks and cranny of growing a child, love to keep a healthy relationship with his wife, and the willingness to work every single day just to provide for the needs of the people he loves.
Being a father is hard work, that's why aside from strengthening them with love and support, it is vital to supplement their heart and mind with the word of God. Now that father's day is just around the corner, we've rounded up the…
10 Best Father's Day Sermon Ideas for every father in your church community.
Through this list, we're hoping that you'll be an instrument to shower all the fathers within your reach, with the goodness and love that the Heavenly Father wants to tell them.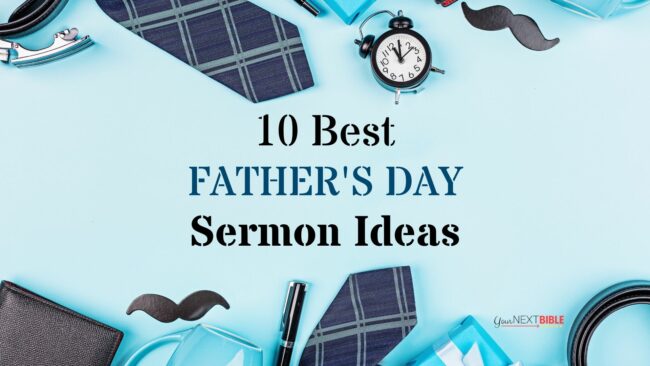 Just like in every team, a band needs a leader that will bring harmony and unity to the group. It's a perfect representation of what a father does in every household – they are the rock that brings strength and harmony to the family.
This is how Adrian Rogers described the responsibility of a father which he supplemented with the Bible verse Psalm 128 which states, "Blessed is everyone that feareth the Lord; that walketh in his ways. For thou shalt eat the labor of thine hands: happy shalt thou be, and it shall be well with thee…"
When talking about fathers in the Bible, we often think of Abraham, Noah, and Isaac. But in his sermon, Max Lucado gave the limelight to Mordecai. In the book of Esther, you'll meet Mordecai – the adoptive father of Queen Esther that lived 500 years before Christ. He played a vital role in helping the Jews redeem themselves through Queen Esther.
Mordecai refused to bow to Haman which is a big act that helped his fellow Jews and he also told Queen Esther what Haman was planning to do which she reversed with the king's help. Despite the risk of being wronged, Mordecai made good decisions for the benefit of everyone he loved.
Fathers are always expected to be strong, fierce, and full of spirit, but there are times when they are weak, experience pain, and lose hope too. Michael A. Milton took the opportunity to spread the good news to every father with this sermon.
He delivered a powerful message that every father should hear – there is hope and healing for every broken dad and their kids. He used the story of David and his son Absalom as proof that with God, even the broken and fractured families will be resurrected with hope and love.
If there's one thing that every family refuses to talk about, it's the expectations of every Father towards their kids. Not every father is supportive of what their kids want but according to the scriptures, fathers should not provoke their children, but rather be the kind of man that gives hope, happiness, and confidence to the kids.
This is a hard issue that John Piper discussed in his sermon because this particular role can either break or make their kids.
Fathers are usually labeled as the disciplinarian in the family, but according to the Bible, Fathers are teachers too. That's the side of fatherhood that Roger Thomas discussed in his sermon.
Fathers teach courage just like Abraham. He showed that in life there are tons of opportunities and there's no easy route which he supplemented with the saying from Hudson Taylor, "Unless there is an element of risk in our exploits for God, there is no need for faith."
The wonderful story of David and Goliath is the star of this sermon by James F.Gentry Jr. It should be included in your Father's Day sermon ideas because of the lesson that even parents or fathers face giants every day.
Fathers are usually represented as someone strong but, just like everyone else, fathers can experience fear and doubt too when there's a giant problem ahead of them.
This sermon is a good reminder to every father in the community that there's no bigger god other than the Lord and through Him, fathers can face any giant just like David.
For this sermon, Chris Walls discussed the lovely Parable of the Lost Son. This story showed the three different characters that can be represented in the family.
There's the youngest son that got lost and rebelled against his father, the elder brother that is self-righteous, and the father who represents God – the only one who's willing to forgive his sons and wait for them. This character can be challenging but good guidance to every father who has growing kids in the family.
Setting the standard on how you should be as a father can be nerve-wracking that's why it's a good idea to talk about it this Father's Day, especially for the new fathers. With the help of the sermon by Robert Cox, you can discuss the Godly standards that one can observe in their household.
They can be a father that gives support, guidance, love, and inspiration to their kids. In his sermon, he used various verses and the commandments as a guide to answering this tough question.
Aside from the lessons and guidance, fathers have a powerful gift that can have a great impact on their families or kids. Brian Fletcher talked about it in this sermon that is ideal for Father's Day – a father's blessing. What's it anyway?
According to the Bible, a father's blessing is pleading for God's grace to give their kids a vision that they hope will become. These visions can be an inspiration and guidance for the kids which can help them take the right steps in achieving their goals.
This sermon by Andy Grossman is perfect for new fathers and fathers who are lost and confused with their responsibilities as a man of the house and man of God. Good thing the Bible gives us the qualities of a good and godly father such as being responsible, good listeners, and loving.
Andy based his sermon form Genesis 18:19 which stated, "For I have chosen him so that he will direct his children and his household after him to keep the way of the LORD by doing what is right and just so that the LORD will bring about for Abraham what he has promised him."
Final Thoughts on Father's Day Sermon Ideas
Fathers just like mothers are God's gift to every family, household, and community. That's why this Father's Day it is important to celebrate their contribution by honoring them with love and the word of God that will boost their spirit to continue being amazing people.
We hope that through these 10 Best Father's Day Sermon Ideas, you can show recognition to the fathers within your reach. Aside from Father's Day sermon, the congregation can also recognize the hard work of the fathers in the community through a simple DIY card, a special Dad's event, or giving them a simple gift so that they'll know that everyone in the community appreciates them.