Those looking for a simple yet in-depth bible reading experience will appreciate the great value offered by the ESV Reader's Bible six-volume set. This set of six volumes provides you with an in-depth view of the scripture in a clear language that honors the original language of the Bible.
This set breaks it down for you, omitting verse and chapter numbers to make for a more fluid reading experience. Accompanied by a reading plan you can really use this Bible to the best of your advantage.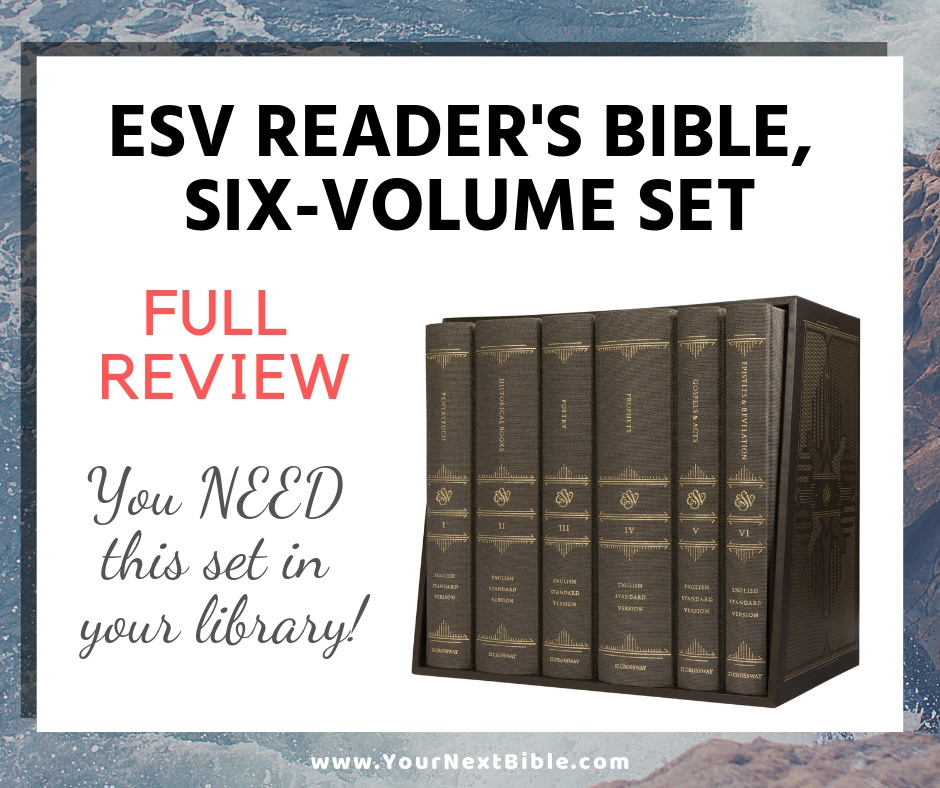 This Reader's Bible is more suited for those times when you have a good amount of time on your hand to delve into detailed reading. This is the ideal choice for those who are looking for a Bible that will take their spiritual understanding to the next level.
ESV Reader's Bible Video Reviews
Introducing the 'ESV Reader's Bible, Six-Volume Set'
Reader's Bible ESV Six-Volume Set Unboxing
ESV Six Volume Reader's Set (Hardback)
Unboxing the ESV Reader's Bible
Key Features of the ESV Reader's Bible


Format – This bible is designed to make reading comfortable. It's designed with a larger font than average. With 12-point type size in black lettering, the ESV Reader's Bible provides great clarity especially for those that may have diminishing eyesight. The pages are high-quality European book paper and feature a single column with paragraph format. There are no footnotes, no chapter number, and no verses. The bible also features reduced section headings and is divided into six volumes. These are;
The Pentateuch
The Historical Books
Poetry
The Prophets
The Gospels & Acts
The Epistles & Revelation
Physical Presentation – The ESV Reader's Bible editors didn't skimp on their presentation. This is indeed a premium Bible with premium features such as a cowhide leather cover with high-quality Smyth-sewn binding for durability. The bible is additionally packaged inside of a solid wood slipcase which in itself is handcrafted.


ESV – The English Standard version Reader's Bible was first published in 2001. This translation provides a literal translation of the bible offering readers word for word accuracy for a clearer and more concise reading experience. The ESV however, still captures the original language of the Bible as it was written many centuries ago.
Pros:
Easy to read
No chapter numbers and other captions or footnotes to distract your reading
Good quality paper
Large font and clear typesetting is very pleasing to the eye
A great option for your longer reading settings
An accompanying reading plan for a more thorough experience
Premium look and feel makes it worth the high price
The text layout is superb
Word, paragraph and margin spacing improves readability
Less reading fatigues
More insightful than your standard bible
Helps promote a better understanding of small details and also the Bible's overall theme
Each volume has an index at the back so you can easily find information as needed
While the binding may feel stiff out of the box it will settle quickly
The slipcase is very sturdy and features grooves which hold the individual books in place
Cons:
A more costly Bible than you may be used to
Some may not like the fact that chapter and verse numbers are omitted
Summary of the ESV Reader's Bible
The ESV Reader's Bible, Six Volume set is a great option if you are looking for a bible that will encourage reading. The set of Bibles are a great gift item for anybody who loves to get lost in the word of God. The fact that there are no chapter and verse markings you can comfortably read without isolating chapters and units. This helps to give you a more comfortable reading experience allowing you to even read more than you would have chosen to in one sitting had the numbers been there. It's an ideal choice for delving into the word and getting the most out of your reading time.