The John Macarthur Study Bible is just what you need if you are looking for a serious study. This study Bible is one of the most comprehensive ones you will find on the market. It includes all his scholarly and pastoral work and thoroughly explains historical content while unfolding meaning and making texts more practical to your life.
MacArthur is a popular conference speaker and author who has served the Grace Community Church from 1969. He is world-renowned with his ministry reaching the world thanks to its satellite offices in multiple countries. His experience gives the reader the assurance that this is a top-quality Study Bible and we agree.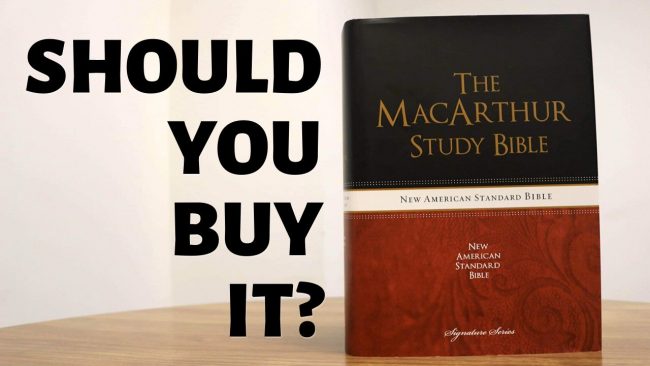 The Study Bible is complete with a lot of bonus features. It is not simply a bible study that will guide you through the bible. What it is is a streamlined and information-packed bible study that will help its readers to get a clearer understanding of the word and help them to apply the word in their lives.
On Sale Now
John MacArthur Study Bible Key Features/Highlights
The John MacArthur Study Bible stands out from the rest in several ways. It is not just complete with his professional and spiritual insight but it offers a lot of bonus features and added versatility. These features include;
Being written with a candid approach to the word of God
A 125-page concordance which includes both places and people
Over 20,000 study notes, maps, charts, outlines and articles from the Author
An overview of Theology
An index to several key Bible doctrines
Now that you've heard what we think about this Bible study, check out what some reviewers have to say about it.
What others are saying about the John MacArthur Study Bible
One reviewer noted how thrilled they are with the NASB translation since it uses modern English. As such, they found the content easier to read and easier to understand and apply.

The overall study was found to be a wonderful reading experience. They noted how using the Kindle version of the Bible study allowed for moving back and forth with ease.

This seamless navigation is said to make the bible study effortless and less intimidating. They note that thanks to its design the bible study experience is rewarding and "joyfully satisfying".
Another reviewer notes this is a "good study Bible to have". They commend the notes and study features as well as the fact that the study is available in multiple Bible translations including ESV, NASB, NIV, and NKJV. They love the quality of the genuine leather cover and are confident in the durability of the book.
A final reviewer calls the John MacArthur Study Bible their "favorite Bible". They note that they have gone through several Bibles and this one is a favorite due to its translation.

They love the commentaries, maps and study notes that help them to get a deeper experience when delving into Bible study from this book. The reviewer notes that the Bibel study isn't their only favorite as The author is one of their most favorite teachers as well.

They note that they use the Study Bible along with the Grace To You app to gain a deeper understanding of God's word and to grow their relationship with the Lord. They complete their review by saying "If you're considering this Bible, Get it!"
On Sale Now
John MacArthur Study Bible YouTube Reviews
MacArthur Study Bible Premier Collection. Video By Bible Buying Guide
NKJV MacArthur Study Bible Premier Collection
The MacArthur Study Bible, Second Edition – Revised and Updated. Video By THOMAS Nelson
The MacArthur Study Bible, Second Edition - Revised and Updated
MacArthur Study Bible with NKJV. Video By Olive Tree App
This Bible comes in multiple versions
Last update on 2023-01-23 / Affiliate links / Images from Amazon Product Advertising API