Are you looking for a bible-based book for women's ministry leaders that is practical and applicable to our lives today? Then, Rethinking Women's Ministry by author Cyndee Ownbey could be just what you are looking for.
In this book, Cyndee from Women's Ministry Toolbox provides you with all the information necessary to help and guide you through leading Bible studies, serving on your churches' Women's Ministry team and helping out with other Women's Ministry programming as well.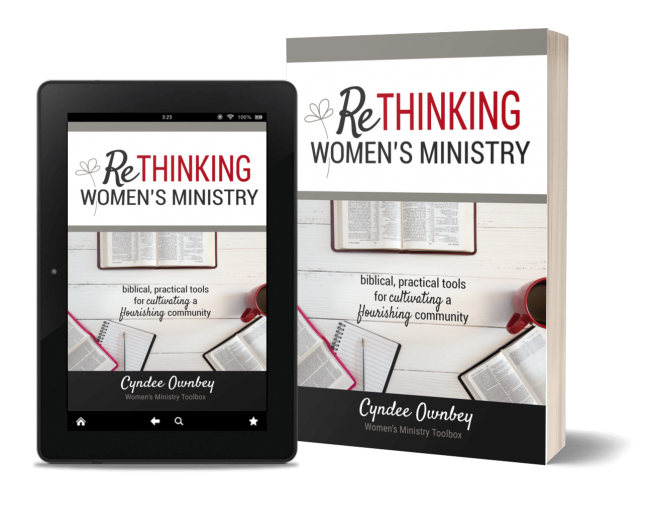 The book is loved by many who have not only read it but have used it to help make their Women's Ministry stronger in multiple ways. It can help you too, make your team stronger, make you a better leader, help you become a leader, help you to reach more women and so much more!

Rethinking Women's Ministry Video Overview
Rethinking Women's Ministry Video
Features/Highlights
When you purchase the Rethinking Women's Ministry book by Cyndee Ownbey you will get access to not just the written book but also to an online community. This community includes readers and users of the book along with their tips, strategies and program plans, etc.
The book is jam-packed with not just talking points and what to do's.  It includes a lot of useful ideas and information to include;
Target Audience – How to find your target audience. Identifying your target audience is just half of the battle you have to get the message across in a way that your target will completely absorb it. This book provides you with the help you need to create communication that will appeal to your target audience.
Framework – The book provides you with all the facets of the women's ministry framework and provides information about how each one integrates into the whole.
Change – It equips the reader with the tools necessary to make the changes in your current ministry to get the most out of your Women's Ministry programs.
Bonus Materials – the book includes a bunch of bonus materials, which if you want to find those out, you just have to go and make your purchase.
What others have to say about their Rethinking Women's Ministry book
This book is a great tool for helping leaders to assess their current program. It will also help a leader to discover less traditional topics for their program. It is ideal for both younger and older women. It is a great initial read and something that you will keep going back to for reference.
This book is a great option, it is practical and provides advice for scheduling and communicating events. It looks at topics that other books don't cover such as technology and working moms in ministry. It even provides information for use in assessing the purpose of events that have been scheduled for your church before.
Is Rethinking Women's Ministry by Cyndee Ownbey for You?
Rethinking Women's Ministry is an essential handbook for any women's ministry leader whether new or old to the role. You will find all the right questions inside, the questions you didn't think to ask evening though there has been that nagging at the back of your brain.
Not only does the book provide you with clarity by asking the right questions but it also has all the answers. It is a must-read! It is versatile, filled with knowledge and can be of benefit to women of all ages, stages of life and all types of women's ministries programs and events.

Continued reading:  How to find the perfect women's bible study
Last update on 2023-01-23 / Affiliate links / Images from Amazon Product Advertising API