The Zondervan NIV Study Bible is one of the newer full-color study bibles on the market. This study bible is complete at 2880 pages and is one of the biggest and even most complex books of its kind. This study Bible features NIV Bible translation text from 2011 so the translation is quite modern.
This is a hardcover guide that features sewn closure so that it can easily lay open flat. It comes dressed up in a dust jacket and measures 6.5 inches by 9.5 inches by 2.75 inches.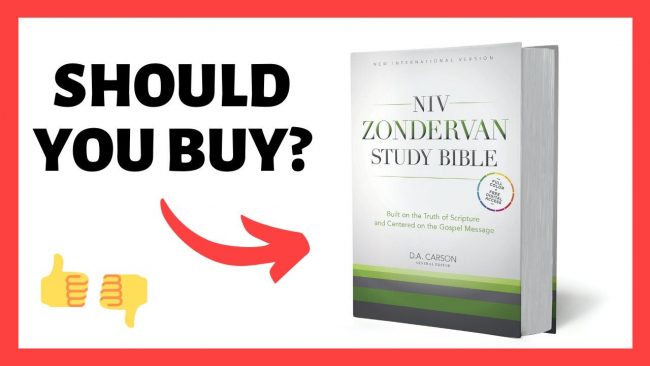 It comes with the standard paper you will find in most modern Bibles, it is opaque and color doesn't show through from page to page. The font is sharp and easily legible with the darkness being consistent throughout the book. It has nice spacing, more than usual between lines.
The interior of the Zondervan Study Bible is designed in such a way that it will capture the reader's attention. This ensures that it will definitely enhance the reader's study experience.
Your purchase of the physical study Bible gives you free access to the electronic NIV Zondervan version.  It is one of the best study bibles you can buy which makes it no surprise at all that it is a bestseller!
On Sale Now
Zondervan Study Bible Key Features
Compiled with knowledge from over 60 scholarly contributors
Approximately 20,000 verse by verse study notes
Full-color photographs, charts, and maps
Included library articles on scripture's major themes
Introductions are comprehensive and include outline, theme, and purpose of the book as well as relevant images
Concordance includes more than 35,000 verses
Introductions for different sections of literary genres of the Bible
Complete in a single column design it is super easy to read
Includes access to an electronic copy of the Bible study
What others are saying about this Bible
The Zondervan has a number of positive reviews. One reviewer notes that they purchased the study bible and compared it to the ESV Study Bible and found this Zondervan to be equivalent to the said ESV study Bible. They note both Bibles are large and are scholarly works that share at least 9 of the same contributors.
Other reviewers note how the layout is one of the best features of the bible study guide as it makes it very easy to read. They note that the way quotations and stanzas are presented is also great for keeping you focused as you go through the bible study.

The color scheme of the bible includes different shades of green that coordinate with each other. They are pleasing to the eye and also make the tet easy to follow.
A tremendous study Bible the NIV Zondervan will equip any believer with clearer thinking and integrity. Edited by Dr. D. A Carson you know that this study Bible is centered on the message of the gospel.

It is referred to as an "ambitious and comprehensive undertaking." the full-color maps, diagrams, photos, and charts only work to improve the reader's understanding of the Bible and to keep them enthralled to keep reading and keep studying.
On Sale Now
Helpful Zondervan Study Bible Videos
NIV Zondervan Study Bible - Bible Review
Bible Review – NIV Zondervan Study Bible Editor D. A. Carson Personal Size
This Bible comes in multiple formats
Last update on 2023-01-23 / Affiliate links / Images from Amazon Product Advertising API